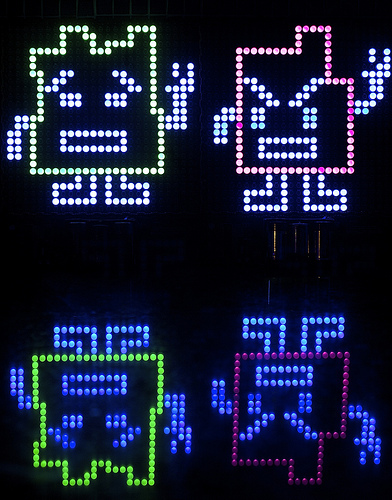 Here is a nice experiment for all aspiring photographers. Have you ever thought about taking photos of LEDs? It may not be as easy as it seems, but with a few comprehensive tricks and some testing from your part, you'll be enjoying the results in no time. Remember, we stock all colors and sizes of LEDs in our store.
More photography projects:
The human eye is much more sophisticated than a digital camera and perceives information quite differently. The sensors in a camera simply do not react in the same manner which makes it very difficult to shoot what we see, when it comes to LEDs. However, by changing some settings manually, you can drastically improve the results. For instance, variations to the shutter speed and white balance can perform magic when they are adjusted properly and are generally preferable to the auto adjustment mode.
So here is what you do:
What difference can a tripod make?
In this case, if you want to play around with your aperture and shutter speed, a tripod would help immensely. Longer shutter speeds are hard to obtain, even with image stabilization, without a tripod and as you narrow your aperture, you'll want to see how long you can extend your shutter speed. A tripod also lets you get multiple shots of the same subject with different settings so you can really compare your results.
Otherwise, professional photographers spend up to $500 on tripods, since they value the results. Without them, images tend to be hazy, contain too much whiteness which alters true color, and are never as precise because of shaky human hands.
Color bleeding
Color bleeding in photography is the transfer of color between nearby objects, caused by the colored reflection of indirect light. Due to color bleeding, when taking pictures of the LEDs you must, once again, adjust the settings properly in order to get the best results. Take for instance the image below; you can clearly notice the color bleed created by the transfer of light between neighboring LEDs. The most obvious ones are the REDs, since they appear pinker in hue every time they border two BLUEs.
Adjusting the white balance
It's important to keep in mind, that once the lens of the camera gets saturated, the background might appear normal or (as we see it) but the LEDs will look whiter. In order to get the best and most realistic colors out of the LEDs, they require daylight. Indirect daylight would be even better to prevent the spectrum skew of artificial lighting, but more light is generally better than less, even if all you can get is a light bulb. For best results, the white balance should be adjusted in such a way that the true colors of your LEDs as well as the background appear closest to their natural color.
It's all in the testing! The more you test, the more physical evidence you produce, which you can then analyze and compare, before adopting a successful technique. via Evil MSL